When a car crash suddenly goes from bad to explosive, there is little you or any other bystander can do about it. One evening around 10 pm in 2002, a California man driving a black Ferrari at high speeds suddenly lost control of his vehicle and went veering off to the left where the car struck several trees on a grassy median and then went into the other lanes before finally stopping. After that horrific crash, the car caught on fire.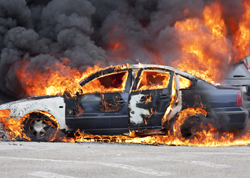 Luckily, the driver and his passenger were just able to make it out of the car before it was inflamed, and no one else was injured. The Ferrari did not hit any other vehicles.
While rare, cars catching on fire are highly dangerous and definitely something you want to avoid, but do you know what to do if something like this does happen to your car? Let us tell you what you should know if you ever find yourself in this situation. Of course, every situation will be unique, but if you generally know what to do and what not to do, you'll be ready for the emergency.