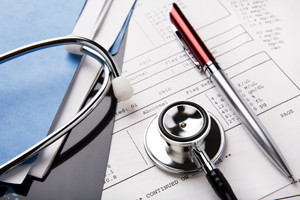 The birth of a child should be a thrilling time in a woman's life, but when doctors, nurses and hospital are negligent, new mothers may find themselves facing a painful and long lawsuit instead of late-night feedings.
Last year, a New York judge awarded a young woman $62 million dollars in damages in a medical malpractice lawsuit against Winthrop University Hospital. The jury decided on the verdict as thus: $20 million owed for past suffering and pain, $38 million for any pain and suffering the future and $4 million to be used for medical expenses.
The case began in October 2009 when 32-year-old single to-be mother Stacy Galette checked into Winthrop University Hospital to have surgery. She was currently having an ectopic pregnancy, which means the fertilized egg was still in Galette's fallopian tube. The surgery seemed to go well, but afterward, Galette complained that she was in extreme pain. She also had an abnormal heart rate as well as a fever. Despite these signs, she was discharged from the hospital.
Barely three days later, Galette returned to the hospital and was placed in the intensive care unit for 73 days. While in the unit, she suffered three cardiac arrests and had to have a colostomy and several skin grafts. The antibiotics that were supposed to help with the infection caused her to lose her hearing, and doctors later had to amputate both of her feet and then both of her legs from the knee down to contain the disease.
After she was discharged once more, Galette filed a medical malpractice suit against Winthrop and her physicians, claiming that they had delivered an unacceptable standard of care. According to the lawsuit, the doctor punctured Galette's intestine, which then led to the infection, blood poisoning and eventually gangrene, which is why she had to have the amputations. Because of the harsh post-surgery complications that were preventable, Galette alleges that her life is forever changed due to the injuries she sustained.
What's really harsh is that the doctors' attorneys told the jury that Galette should just be thankful that she is alive! Talk about your bedside manner.
In their defense, Galette's doctors said that the puncture was not done during the surgery. They claim an underlying bowel condition led to the puncture. They further stated that even if the puncture had been done during the surgery, Galette should have known that this was a possibility of the surgery, which would mean that the puncture would not fall under the malpractice category.
The jury did not buy this argument, and they awarded Galette her money. Winthrop has said that it plans to appeal the process.
In California, you always have the right to a trial if you are the victim of medical malpractice. Just because your doctor helps you heal after his or her negligence does not mean that he or she should get a free pass. This doctor caused your injury in the first place, and it is because of this person that your life is changed.
Though it can be unnerving to go up against a hospital or doctor, you do not have to go at it alone. Your lawyer, friends and family will be right there with you. Do not let yourself be taken advantage of. If you do not act, that same doctor may make the same mistake with another patient.
If you or a loved one have been injured by medical malpractice, you will need a lawyer with experience. Call Moseley Collins at (916) 444-4444 for a free consultation.
Moseley Collins is a personal injury attorney serving those badly hurt throughout California. There is absolutely NO FEE to discuss your case and there is absolutely no fee unless we win and get you the money you are entitled to. We are on your side and know what to do to get you compensation and justice.
Moseley Collins
980 9th St, 16th Floor
Sacramento, CA 95814
Phone: (916) 444-4444
https://www.moseleycollins.com/