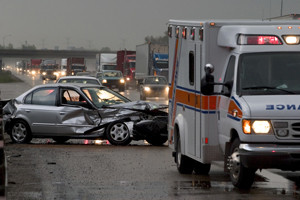 When people imagine horrible car accidents it is most often involving another car. Nightmarish flashes of drunk drivers and irresponsible big rig operators occur when talk of tragic car accidents comes up. Surprisingly, studies have shown that most fatalities occur in single car crashes. AAA Mid-Atlantic produced studies of 8,000 fatal crashes over a period of five years. More than half died in single car crashes.
Survivors of single car accidents, including families of fatal victims, are faced with monetary issues that are often insurmountable. Grief, sadness and mental anguish added to financial difficulties clouds the thought process considerably. Many victims in these cases wrongly assume they cannot seek monetary recompense for damages accrued in the accident. There are some instances when a victim can seek financial compensation even though there were no other drivers involved.
When a third party is responsible for a single car crash they can be held responsible for damages accrued. Negligent drivers taking part in unsafe driving practices do not fit into this category. Unsafe driving practices include drunk driving or driving impaired, speeding, tailgating and distracted driving among others.
Single car crashes often occur when roads are not adequately maintained and dangerous driving conditions are present. The design and architecture of roads can also be ill planned and dangerous. Defects in the road, such as blind curves, drop-offs without guardrails, missing or hidden road signs, and unsafe construction, are often responsible for single car accidents.
In situations where roadways are to blame, there may be a chance to recover some damages from the public entity responsible for the maintenance and care of the road. Past accidents in the same spot, length of time the damage has been present and any attempts to previously fix the problem are all factors in the determination of responsibility.
Lawyers for any public entity that might be held responsible will inevitably blame the accident on the victims driving. Doing so will not absolve them of any responsibility that may be present on their behalf. The negligence of each party will be investigated to determine responsibility.
While a car crash may only involve a single car, there are circumstances when other drivers inadvertently cause an accident. An example would be a driver beginning to change lanes without looking and then suddenly realize there is another driver approaching from behind. The rear driver may have to boldly swerve and end up in a roll-over or departure from the roadway. The driver who tried to switch lanes may not even be aware of the accident he caused.
If you were involved in a single car accident there may still be a way to recover any financial damages you have incurred. Contact the offices of Moseley Collins today to see if we are able to help in this stressful time.
Moseley Collins is a personal injury attorney serving those badly hurt throughout California. There is absolutely NO FEE to discuss your case and there is absolutely no fee unless we win and get you the money you are entitled to. We are on your side and know what to do to get you compensation and justice.
Moseley Collins
980 9th St, 16th Floor
Sacramento, CA 95814
Phone: (916) 444-4444
https://www.moseleycollins.com/