Have you ever driven past an accident on the side of a highway and thought, "What in the world happened?" Sometimes it's not easy to actually tell what happened at the scene of an accident, especially when you only have a few seconds to assess the scene before you drive right by.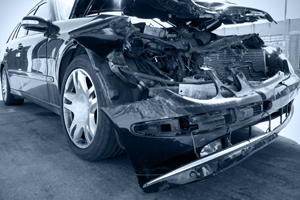 Now you may not have to wonder about these accidents any longer. The Auto Insurance Center, an information and news site dedicated to keeping up with the latest in car insurance news, began researching the answer to that very question. The center combed through records in the United States from the National Highway Traffic Safety Administration's Fatal Accident Reporting System, which has been keeping records on every serious and fatal car crash in the United States from 2009 to 2013.
The data itself showcased the number of pedestrian, driver, and passenger deaths that resulted from those accidents. When the center finished compiling their information, that made a color-coded map to show which fatal accident was the most common in each state. The map included nine colors:
Failure to keep in proper lane
Failure to yield the right of way
Reckless or careless driving
Overcorrecting
Not adjusting to road surface (rain, snow, ice)
Driving on the wrong side of the road
Not adjusting to road obstruction
Operating without required equipment
Improper turn
The data showed that of all these types of accidents, failure to stay in one lane caused the largest number of deaths. The second most common cause of accident fatalities was failing to yield the right-of-way. In California, the most dangerous and common type of accident was found to be improper turn.
The center also looked at other statistics to glean as much information about driving behavior in all states across the country. Their findings saw that Arkansas has some of the most reckless drivers in the country, while Hoosiers in Indiana are the worst when it comes to road rage. Delaware drivers were known for their erratic lane changing, and Wyoming drivers are more likely to have accidents involving the failure to keeping in the proper lane. Surprisingly, South Dakota drivers had the most police pursuits.
To get this information, the center added up the number of all types of fatal crashes associated with each behavior and then divided that number by the population total. The final result was a per capita metric, which provided a good comparison to further rank the states.
The Auto Insurance Center also looked at drunk driving accidents to see which states were more sober than others. According to their research, drunk driving accidents were more likely to occur in rural areas that did not have access to public transportation. North Dakota had the most drunk drivers, with Montana and Wyoming taking second and third place respectively.
The best states that had the fewest number of drunk driving crashes included Washington, D.C., New York, and Massachusetts, which ranked first, second, and third place respectively. This fits in with the previous hypothesis because all three locations have high urban populations. It's much easier to call a cab in downtown New York City or Boston than it is in a rural town in Wyoming.
The only state that didn't fit this hypothesis was Utah. The center believes that because of its strict liquor laws and high Mormon population, drunk driving is easier to avoid.
Knowing which accidents are more prevalent in certain states can be a great starting place for police officers and lawmakers looking to make the roads safer. If they know where to start, they'll have a better chance of making their states safer for all drivers.
If you have a loved one who has been injured in an auto accident, you will need a Sacramento car accident lawyer with experience. Call Moseley Collins at (916) 444-4444 for a free consultation.
Moseley Collins is a Sacramento attorney serving those badly hurt throughout Northern California. There is absolutely NO FEE to discuss your case and there is absolutely no fee unless we win and get you the money you are entitled to. We are on your side and know what to do to get you compensation and justice.
Moseley Collins
980 9th St, 16th Floor
Sacramento, CA 95814
Phone: (916) 444-4444
https://www.moseleycollins.com/