When you're in an auto accident, you might feel as if you're being pulled in so many different directions. You're worried about your own injuries and how they will affect your personal life and your ability to hold down a job. You might also be worried about any loved ones of yours who were also injured in the accident. Finally, your car has probably taken some serious damage, and it might be awhile before you have the money to either fix it or get a new one.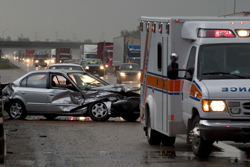 What you do need to be keenly aware of, out of all these issues, is the matter of statutes of limitations. After you're in your accident, you have a set amount of time during which you need to get your claim filed. These limitations can change how you and your insurance claims are handled. If you file a claim past the deadline, you will not be able to file a case or a claim with your insurance.
If you have a personal injury claim resulting from an accident, then you have two years to file a lawsuit with regards to auto insurance. If you have property damage to your vehicle or personal property, then you have three years for which to file a lawsuit.